She is clothed with strength and dignity; she can laugh at the days to come.
There is a strength in EVERY woman. Here at The Church in The Pines we believe we are Kingdom women . We are the princess' of the True King. When we gather together to do life, the Spirit is among us. As we learn whose we are in Christ, that is when we shine. Whether you have short or long hair, manicured or dirty nails, stay at home with children, care for your husband, support a career, wear stretch pants or attend church regularly, we believe that our True identity comes from our Creator. We, as women of the Church, walk it out by faith, boldly standing up for the Truth to be stronger and our lives to shine brighter in our homes, community, and the world.
Since I was a young teenager, I knew that I was completely loved and accepted from God. Raised in a small town in Ohio,
I regularly attended an Apostolic church where I learned how to be a believer in Christ with the full understanding of God's love for me. Somewhere after becoming a young adult I mislead and convinced myself that I was missing out on what the world had to offer. Ambition for success and the drive to feel/be important, life left me with a gaping hole in my spirit and I had made life long decisions that only God and time could fix. BUT GOD! I remembered that God's Word has over 3,000 promises and I knew that anyone of them could restore in me what I thought I had lost. Since then, I haven't looked back, I look forward to every new day, to see how God will mold me, to look more and more like the way he created me to be from the very beginning. My husband Mike and I are blessed to have two children. Gannon and Carleigh are an incredible addition to our family and a daily reminder of God's love for his children. I am a realtor by trade and have been in the industry for 16 yrs. My clients are a blessing designed by God and I am forever grateful for my occupation. Being head of the women's ministry for The Church in The Pines is another way for me to be able to love on people in our community.
I know without a doubt that I love people like no other and its only because of God's love and example that he has given me.
encouraging life together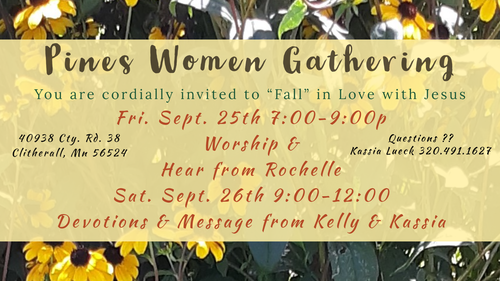 Get out of your head book study
Feeling stuck, frustrated, and defeated? The the solution is simple: with Gods word we can shapes our thoughts on how we live. We can learn to stop thoughts that leave us prey to toxic patterns like victim hood, anxiety, and distraction. Drawing on biblical teaching , we will learn how to fight the enemies of the mind with the truth of God.
Study goes for 7 weeks.
Workbooks are $8.99
RSVP to Kassia so we know how many books to order.
Mondays 10:00 am @ The Church
Join the lades of The Church as we do life together.
We laugh, we cry, we share, go deep, and keep it light!
We meet every other Wednesday @ The Church 2:30Pm
Check the app click on Church calendar for dates
We'd love to hear from you. Fill out the form below to get started.