For even the Son of Man came not to be served, but to serve...
We want people, no matter what they are going through to know that Christ and his church will walk with them through life. As a volunteer in the church, we are passionate about doing everything by the leading of the Holy Spirit, to make the people we encounter feel that kind of love and support.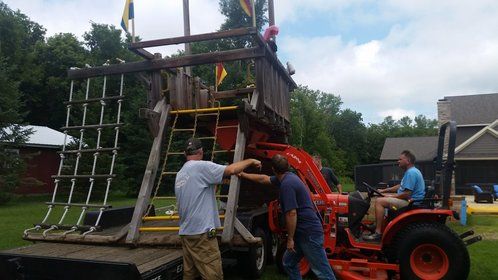 "Jeremy accepted Jesus as his Lord and Savior at age 10 and has been active in following Christ ever since. He has been married to his wife, Kelly, for over 30 years. Together, they are committed to their family and God's ministry. As of year 2020, God has blessed them with 8 children and 6 grandchildren. They are blessed to have many of their children involved in ministry as well. God has given them a heart to rescue the spiritually perishing and dying; minister to the little and the least, the widow and the orphan and with God's struggling church inside prison walls. They love participating in the work God is doing!!!"
The mission of the hospitality ministry is to provide a welcoming environment of love, acceptance, support, and unity for our church family and visitors, in order to enhance their experience, encourage fellowship, and help build a community of believers..
At the Church in The Pines we feel that one of the greatest ways to serve is behind the scenes taking care of the house we get to worship together in! If you sense a leading to help in this ministry please fill out the form below!
In this day and age media and technology are essential in creating an effective and impactful worship service. At The Church in The Pines there are a myriad of opportunities to use your gifts and talents in this area.
Each week at The Church we celebrate communion. Jesus' death and resurrection for us is central to us at The Church. Jesus said that we should do it in remembrance of Him. Without Him we do not have freedom. If you have an interest in serving communion please fill out the form below!
The Church in The Pines is nestled in a grove of pines that cover 10 acres of land. There have been trails and openings throughout to walk around and enjoy God's beauty. We have perennial and annual gardens throughout with room to grow! If you have a love for the out doors and want to spend time serving the Lord through helping maintain the grounds please fill out our form below!
As with any Home things go wrong. If you are handy and are looking for a place to serve please consider joining our team!
Here at The Church in The Pines we are dedicated to loving all the little ones who come each Sunday. We as a church family all have an opportunity to share the love of Christ to everyone who comes through our doors including infants and toddlers. If you have a heart for Jesus and little ones please consider joining our team to help on a Sunday morning! (2nd service only)
God gifted children with innocence and transparency. They have openness to His Spirit and absorb His Word with striking ease. At The Church in the Pines, we don't just entertain children, they cooperate with God in prayer and learn from the Bible. If you have a love for children and an energetic patient spirit we would love to hear from you!
Use your unique gifts to help build the Kingdom.
If you have an interest in helping out in one or more of the above opportunities
please click below on "sign up to serve"
We will get back to you within a few days!
Questions about volunteering?
We love to clarify volunteering requirements. Please reach out if you still have questions.